The Montgomery Township Police Department is proud to announce they have received the Pennsylvania Law Enforcement Re-Accreditation status for 2020. The Montgomery Township Police Department has been accredited since 2004, and now holds the distinction of being a Premier Agency.
Out of nearly 1,100 police departments in the Commonwealth, there are only 126 who are accredited, and ten who are deemed a Premier Agency.
The police accreditation program was designed and developed to provide a strategy for the continued professionalization of law enforcement agencies within our Commonwealth. The accreditation program is administered by the Pennsylvania Chiefs of Police Association, who is responsible for the inspection and review of accredited police departments once every three years.
The assessment completed for accreditation and re-accreditation involves a police department to have policies that cover over 390 police standards and sub-standards. Further, accredited police departments must show accreditation inspectors not only that they have a written policy covering the required standard but that they are following their written procedures.
Accreditation standards topics range from law enforcement best practices for subjects such as; Use of Force, De-Escalation, Personnel Complaints, Police Hiring, Employment Background Investigations, Body Camera Usage, and Anti-Bias Based Policing.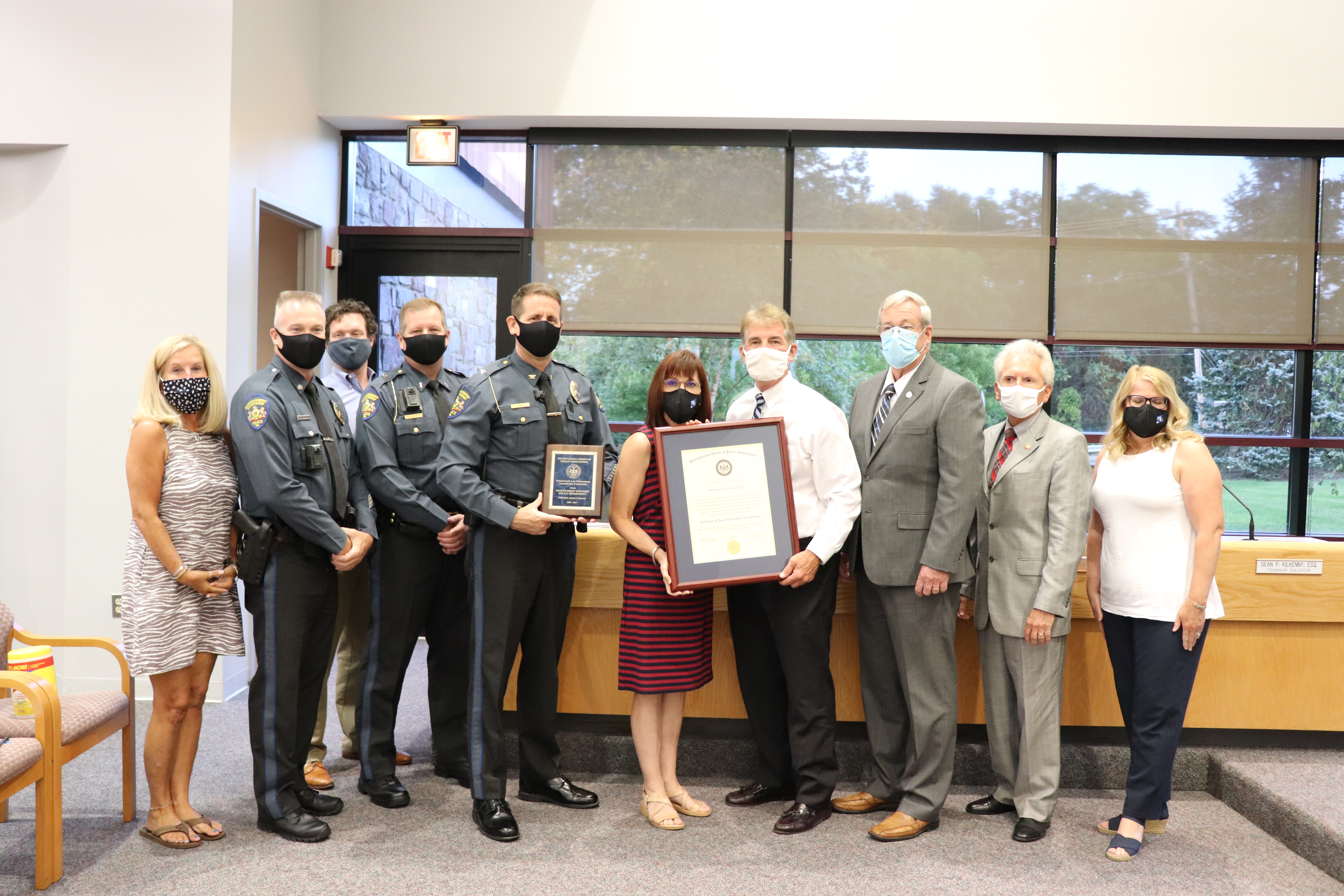 Pictured Left to Right: Supervisor Candyce Fluehr Chimera, Officer Brian Gerrard, Supervisor Matt Quigg, Lieutenant William Peoples, Chief J. Scott Bendig, Chairwoman Tanya Bamford, Executive Director of the PA Chiefs of Police Association, Scott Bohn, Pennsylvania Law Enforcement Accreditation Program Coordinator Richard E. Hammon, Pennsylvania Law Enforcement Accreditation Commission Chairman Chief James W. Adams (Retired), and Supervisor Beth Staab