WHAT IS IT?
The Spotted Lanternfly (SLF), Lycorma Delicatula, is a destructive invasive plant, native to China, that was first detected in 2014 in southeastern Pennslyvania. It feeds voraciously on many plants, including economically important crops like fruit trees, grapevines, hops, hardwoods, and ornamentals. The Spotted Lanternfly's favored host, however, is the Tree-of-Heaven.
IDENTIFICATION
There is one generation of SLF per year. The eggs are laid in late fall and hatch in the spring. Egg masses are laid on hard surfaces (trees, decks, houses, outdoor equipment, rocks, etc), and protected with a mud-like covering. See the life stages below and click the photo for more information on identification.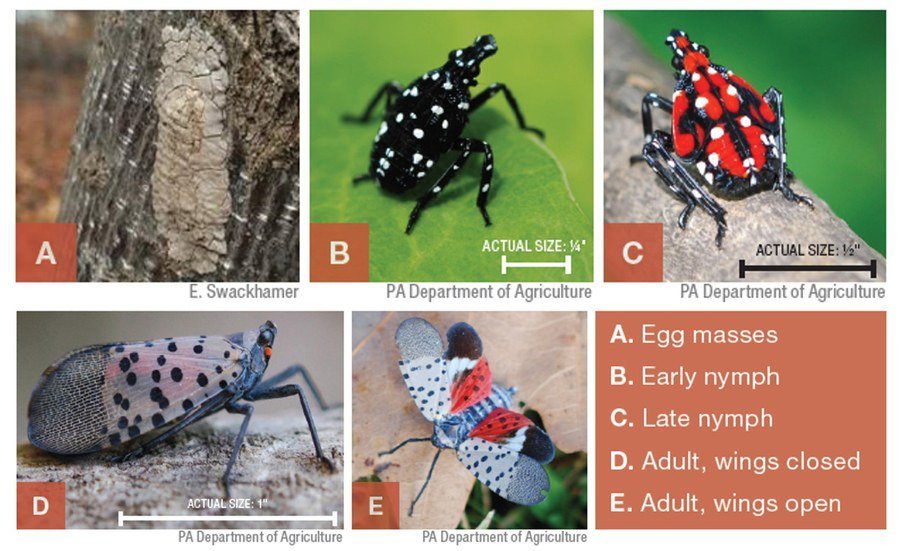 MANAGEMENT & QUARANTINE
The graphic below shows which counties are included in the quarantine. You can help stop the spread by checking your car and outdoor equipment (grills, outdoor furniture, landscaping supplies, mowers, etc.). Check for SLF egg masses from late fall to early spring. Remember that egg masses may be underneath your car or in your wheel well. During all other times of the year, check for nymphs and adults, and keep your windows rolled up when you park. Don't store things or park under infested trees, and don't move firewood. If you detect any of the life cycle stages of the SLF on the trees on your property, The Pennsylyvania State Extension and Pennsylvania Department of Agriculture encourage you to try and remediate them by following these steps:
Stop the spread
Scrape eggs
Band trees to catch nymphs
Remove tree-of-heaven
Apply insecticides
Visit https://extension.psu.edu/spotted-lanternfly-management-for-homeowners for instructions on these steps.
Questions can be directed to the Spotted Lanternfly Hotline at 1-888-422-3359.